Meet 'Being Mary Jane's "Cutty Buddy", Thomas Q. Jones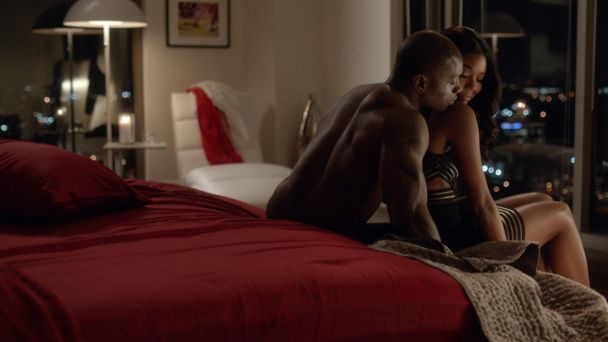 The closing scenes of last Tuesday night's Being Mary Jane threw us all for a loop. After shooing away her ex, Mary Jane returned home and seemed to be in for the night. Suddenly she was getting dressed and heading back out to see a man we were introduced to only as "Cutty Buddy," her friend with benefits who had more to give.
Well, her "friend" has an actual name. It's Brandon in the TV series, and in real life he goes by Thomas Q. Jones. The now-retired NFL player has taken his talents from the football field to the small and big screens. (That explains that body, right?)
The Root caught up with the athlete-turned-actor to find out about his transition to Hollywood (difficult), if we'll see more of him on Being Mary Jane (maybe) and where we can see him next (Straight Outta Compton, in theaters Aug. 14).
The Root: I shared with my friends that I was interviewing you. All the women responded, "Cutty Buddy!" and the guys were like, "Hold up? The football player?!" Why and how did you make the decision to go from being an athlete to an actor?
Thomas Q. Jones: When I [left] football, I was in this dead space. My whole life had been football since I was 5 or 6 years old. I didn't have anything that I loved to do anymore, and it was a tough time for me. I've never been a drinker, but I was up at 8, 9 a.m. drinking Corona. I found acting as a way to detox from football. Football and acting are a lot alike. There's a lot of raw emotion you release on Sunday as a football player. I put all of that into whatever character I'm playing.
TR: I was live-tweeting Being Mary Jane the other night when you appeared. That scene almost broke the Internet, and "Cutty Buddy" began trending. What has the response been like since the show?
TQJ: It's been really cool. It's always good to get a positive response. It's a great show, one of the best on TV. Great cast, great writing. Gabrielle Union is amazing as Mary Jane. The audience is rooting for her to win, and maybe my character will be a part of that.
Read more on The Root